Why is Chauffeurs Training Important in Chicago? Chauffeurs Training Guide
Chauffeur is an ideal career for people who love driving and have exceptional customer service skills. However, chauffeur training is crucial no matter how good you are at these two skills. Especially, if you are planning to serve in Chicago, you need to get a chauffeur's training.
It is important because working as a chauffeur allows you to visit new locations, meet new people including big tycoons, and have the opportunity to drive luxury fleets. Therefore, chauffeur training plays a pivotal role in meeting the criterion of a professional chauffeur.
But how? Don't worry. This article will provide a detailed chauffeur training guide for everyone who is looking to build one's career in this field.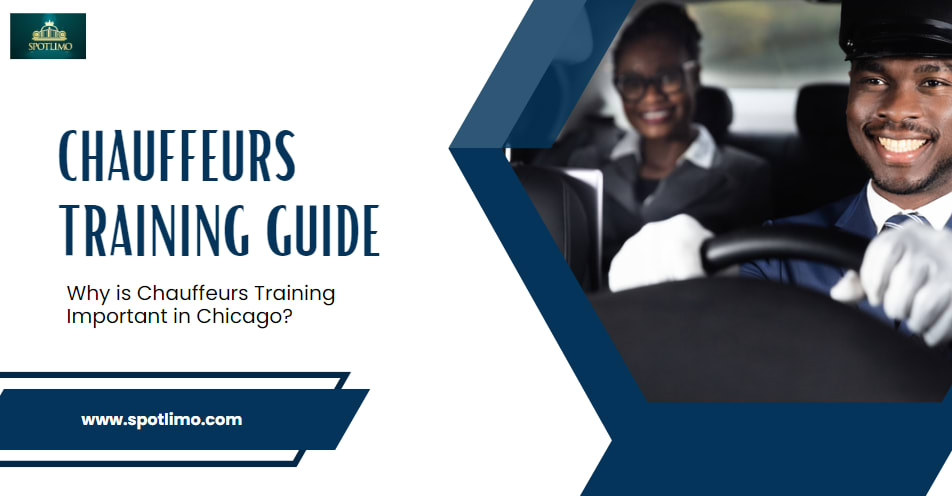 Importance of Chauffeur Training in Chicago
Chicago, with its towering skyscrapers, rich cultural diversity, and a pace of life that rivals the best, is a city of grandeur and sophistication. In addition, the city has been a major hub for business conferences and corporate events. Considering this fact, it becomes 10x more important to hire a professionally trained and well-conducted chauffeur.
But what makes a chauffeur in Chicago truly exceptional? It's not just the knowledge of city routes or the ability to handle a vehicle with finesse. However, it is a combination of skills, expertise, and unwavering commitment to service. Also, in this vibrant city, where time is of the essence, and expectations run high, chauffeur training becomes not just important but indispensable.
Chauffeurs Training Guide | Key Points
Elevated Client Expectations - Chicago's clientele, from corporate executives to socialites, have discerning tastes. They expect nothing short of perfection when it comes to their transportation experience. Chauffeurs must be trained to meet and exceed these high standards.
Navigating a Complex Urban Landscape - Chicago's streets are a labyrinthine network

, subject to traffic congestion and unpredictable weather. Chauffeurs need the training to navigate efficiently and safely through these challenges.

Cultural Sensitivity -

Chicago is a melting pot of cultures and backgrounds. Chauffeurs must be culturally sensitive and attuned to the diverse needs and preferences of their clients.

Safety First -

The safety of passengers is paramount. Chauffeurs should be trained to handle various driving conditions and emergencies with grace and confidence.

Professionalism -

In a city that exudes professionalism, chauffeurs must be the epitome of it. This includes impeccable presentation, communication skills, and a commitment to confidentiality.

Technology in Chauffeur Services -

Clients appreciate chauffeurs who are well-versed in GPS technology, as it not only saves time but also enhances the overall travel experience. The ability to provide accurate arrival times and offer alternative routes in the event of traffic congestion showcases a commitment to exceptional service.
Licensing and Permit Requirements for Chauffeurs in Chicago
Becoming a chauffeur in the Windy City is not just about mastering the art of driving and customer service; it also involves navigating a regulatory landscape designed to ensure safety and professionalism. We have mentioned below the essential licensing and permit requirements that every aspiring chauffeur in Chicago must understand and comply with.
Chauffeur's License:

To operate as a

chauffeur in Chicago

, you must obtain a

Chauffeur's License

from the BACP. This license is distinct from a regular driver's license and is specifically tailored for professional chauffeurs.

Age Requirement:

Applicants must be at least 21 years old to be eligible for a Chauffeur's License.

Driving Record:

The BACP conducts a thorough review of your driving record, including any past violations or convictions. A clean driving record is typically a prerequisite for obtaining a license.

Background Check:

A comprehensive background check, including criminal history, is part of the application process. Certain convictions may disqualify an applicant from receiving a license.

Medical Examination:

Applicants must undergo a medical examination to ensure they are physically fit to operate a vehicle safely. This may include vision and hearing tests.
Key Qualities of a Good Chauffeur
A chauffeur is not merely a driver but a symbol of professionalism, sophistication, and impeccable service. To excel in this role, one must possess a unique set of qualities that go beyond simply knowing how to operate a fleet. Here are some of the key qualities of an exceptional chauffeur:
Exceptional Driving Skills:

A chauffeur must be an expert driver with an impeccable driving record. They should have a deep

understanding of various vehicle types

and models and the ability to handle them with grace and precision.

Safety Consciousness:

Safety is paramount. A top-notch chauffeur prioritizes the safety of passengers and other road users at all times. They are well-versed in defensive driving techniques and remain calm and composed under pressure.

Professional Appearance:

Chauffeurs represent elegance and professionalism. They are always impeccably groomed, dressed in a smart uniform, and maintain a neat and tidy vehicle interior.

Excellent Communication:

Effective communication is crucial. Chauffeurs must have excellent interpersonal skills, listening carefully to clients' preferences and providing polite, clear, and concise responses.

Local Knowledge:

A good chauffeur is familiar with the local area and its traffic patterns. They should have an in-depth understanding of the city's streets, landmarks, and alternate routes to avoid traffic congestion.

Punctuality:

Being on time is non-negotiable for a chauffeur. They should have excellent time management skills, ensuring that clients reach their destinations promptly, whether it's for

business meetings

,

social events

, or

airport transfers

.

Discretion and Privacy:

Chauffeurs often serve high-profile clients who value their privacy. Respecting confidentiality and maintaining discretion is vital.

Customer Service:

Exceptional customer service is at the core of chauffeuring. Chauffeurs are courteous and attentive and go above and beyond to meet client needs, such as opening doors, assisting with luggage, and offering amenities.

Adaptability:

Chauffeurs must be adaptable and flexible, as client needs can vary greatly. They should be able to adjust to different personalities, preferences, and schedules.

Problem Solving:

Unexpected situations can arise, from traffic delays to vehicle issues. A chauffeur should remain composed and resourceful in resolving challenges while keeping the client's comfort and safety in mind.

Maintenance Knowledge:

Chauffeurs should have a

basic understanding of vehicle maintenance

and be able to address minor issues or know when to seek professional help to ensure the vehicle is in excellent condition.

Multilingual:

As we said above, Chicago is a hub of world's business conferences and events, there are chances that your client cannot speak or understand the English language. Therefore,

professional chauffeurs must be multilinguals

to meet the language diversity of their clients.

Continuous Improvement:

A commitment to ongoing training and self-improvement is crucial for staying current with industry trends, technology, and customer service best practices.

Stress Management:

Chauffeurs often work in high-pressure environments

. The ability to manage stress and maintain composure is essential for providing a seamless experience.

Passion for Service:

Above all, an exceptional chauffeur has a genuine passion for service. They take pride in their role and are dedicated to exceeding client expectations, making every journey a memorable one.
The Bottomline
To conclude, chauffeur training is not merely a formality. It is the cornerstone upon which the entire chauffeur profession is built. Its importance cannot be overstated, especially in an industry where passengers entrust their safety, comfort, and overall experience to the skill and professionalism of the chauffeur. This article has provided detailed information about chauffeur training. However, if you are looking to hire any professional chauffeur in Chicago, do not look elsewhere than Spotlimo Chauffeur Services.