Why Choose a SpotLimo Limousine For Airport Travel?
In a world that's constantly on the move, where every second counts, and where seamless travel experiences are paramount, choosing the right transportation can make all the difference. Imagine stepping off a long flight, weary from your journey, and being greeted by the epitome of luxury and comfort—the SpotLimo Limousine. It's not just about getting from point A to point B; it's about elevating your airport travel experience to new heights.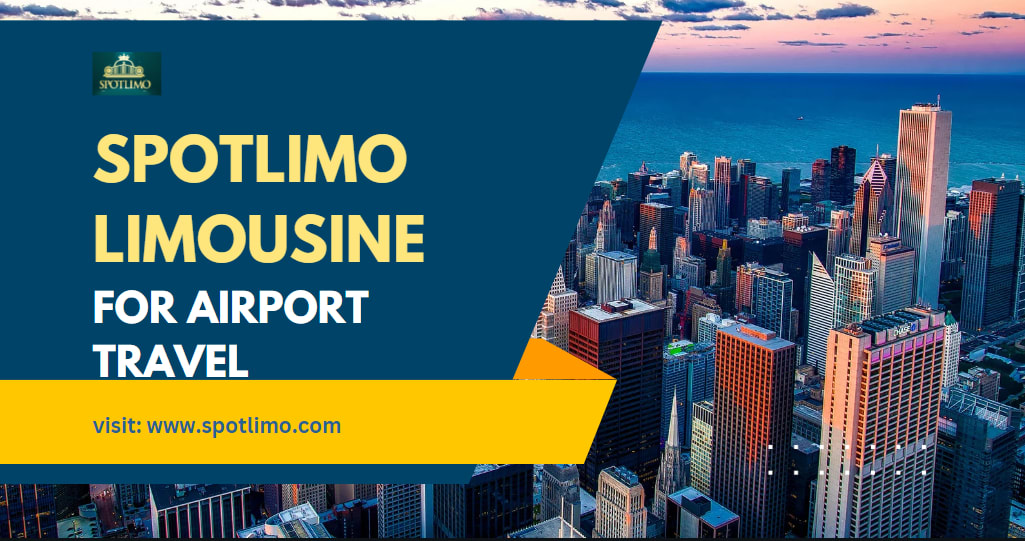 An American author Henry Miller once said, "One's destination is never a place, but rather a new way of seeing things." Airport travel is not merely a means to an end. Instead, it is the beginning of an adventure, a business opportunity, a reunion with loved ones, or several other reasons.
In addition to this, O'Hare International Airport, located in the heart of the Windy City, serves as a major gateway for millions of travelers annually. In fact, as of 2021, O'Hare consistently ranked as one of the busiest airports in the United States, facilitating over 83 million passengers each year.

Please note that this statistic underscores the immense importance of air travel in the Chicago city and the significance of making the right choice for your airport transportation. Considering these facts and details, choosing a SpotLimo Limousine for your Chicago airport travel is crucial for timely arrivals and safe execution from the busiest airports of Chicago.
This article will provide a detailed analysis of why choosing Spotlimo limousine is an important and much-needed decision.
Unmatched Punctuality and Reliability
At SpotLimo Limousine, we understand the undeniable importance of timely arrivals at the airport. Late arrival can often result in missing a flight. Moreover, the congested traffic of Chicago is not hidden from anyone. Due to transportation delays, you can be stuck in the traffic.
Presevily speaking, while traveling to chicago airport, stucking in the traffic could be a traveler's worst nightmare. That's why we take pride in our impeccable track record of being consistently punctual and reliable.
We have a team of dedicated chauffeurs who are well-versed in the nuances of airport logistics. Our professional chauffeurs ensure you reach your destination on time and do not miss your flights or do not wait for your ride after a hectic, long flight.
Luxurious Comfort and Style
Traveling through airports can be a stressful experience, but a luxurious and comfortable ride can make your airport travel stress free. So whether you come from a hectic flight or going to catch a long flight, you do not need to stress when you choose SpotLimo Limousine services in Chicago.
When you choose SpotLimo Limousine for your airport transportation, you are not just selecting a ride. Instead, you are opting for a luxurious experience. Our fleets are well-maintained, well-decorated, and driven by professional and trained chauffeurs.
They not only ensure your safety but also offer a high level of service,

including assisting with luggage and navigation. While you carry your style, our trained chauffeurs will carry your luggage. It is because traveling in style is a hallmark of SpotLimo Limousine.
Stress-Free Travel
Airport travel can often be stressful, especially with the hassle of traffic, parking, and navigating through crowded terminals of the Chicago city. SpotLimo Limousine takes the stress out of your travel experience. Spotlimo's commitment to your comfort is unwavering.
Our wide range of fleets are equipped with plush seating, ample legroom, and modern amenities, making your journey to or from the airport a relaxing experience. Our chauffeurs are experts in handling all aspects of airport transportation. They make sure that you have a smooth and hassle-free journey.
Safety First
Navigating through busy airports can be overwhelming, especially if you are unfamiliar with the layout. Spotlimo's professional chauffeurs are well-versed in the airport layout and procedures, providing you with a seamless transfer from the moment you step off the plane. In addition, you will be swiftly guided to your waiting limousine, ready to whisk you away.
Your safety is our top priority at SpotLimo Limousine. We maintain our vehicles to the highest safety standards, undergo regular inspections, and adhere to all safety regulations. Our experienced chauffeurs are trained to prioritize passenger safety, making your ride with us not only comfortable but secure.
Personalized Service
SpotLimo Limousine takes pride in offering personalized service tailored to your needs. Whether you require assistance with luggage, have specific travel preferences, or need recommendations for local attractions, our well-trained staff is at your service.
Additionally, we understand that one size does not fit all, and we also understand that every traveler has unique needs. SpotLimo Limousine offers personalized services to cater to your specific requirements. Our fleet offers a range of options to suit your preferences and group size. Whether you're a solo traveler or part of a larger group, we have a perfect vehicle for you, ensuring a comfortable and luxurious ride.
Addition to this, whether you need assistance with luggage, have special requests, or require additional stops along the way, we are here to accommodate your needs and make your journey exceptional.
Cost-Effective Luxury
Contrary to popular belief, luxury doesn't have to come at an exorbitant price. SpotLimo Limousine offers competitive rates for our premium services. You can enjoy the luxury and comfort of a limousine without breaking the bank. We believe that every traveler deserves the best, and we make it accessible to all.
Convenience at Your Fingertips
Booking a SpotLimo Limousine for your airport travel is incredibly convenient. With our user-friendly online booking system, you can reserve your limousine with just a few clicks.
We offer transparent pricing, and you will receive instant confirmation of your booking. Our commitment to convenience extends to our seamless airport pick-up and drop-off services, ensuring a hassle-free experience from start to finish.
The SpotLimo Limousine Advantage
SpotLimo Limousine has been a leader in the luxury airport transportation industry. We provide airport transportation services for almost all the airports located near Chicago.
Additionally, when you choose SpotLimo Limousine for your airport travel needs, you are not just selecting a mode of transportation, instead, you are opting for an incredible travel experience. Our commitment to punctuality, luxury, safety, personalized service, affordability, and convenience sets us apart as the premier choice for airport transportation.