9 Exciting Limousine Birthday Ideas in Chicago
Limousine birthday ideas can be the most exciting ways of celebrating birthdays in Chicago. We all know that birthdays are special occasions that call for unique and memorable celebrations. While there are countless ways to celebrate this life's milestone, limousine birthday celebration in Chicago is one of the most promising ways.
Please note that Chicago offers a great array of scenic landscapes and pleasant picnic spots that makes celebrating birthdays on four wheels worth-experiencing. In addition, renting a limousine in Chicago for your birthday not only adds an element of luxury but also creates lasting memories for those looking to make their special day unforgettable.
In this article, we will discuss the 9 best limousine birthday ideas in Chicago to help you plan a memorable and most extravagant birthday celebration for your loved ones.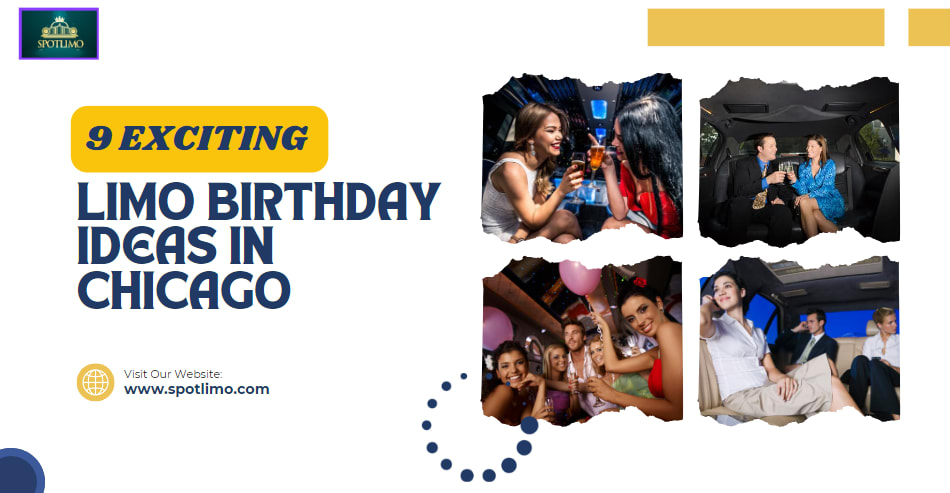 Chicago Lights Tour

If you ever get a chance of celebrating your birthday in Chicago, never miss the opportunity of exploring Chicago's mesmerizing skyline and lights on your special day. Roaming around the city, blowing candles on four wheels, and witnessing the world's best skyline is going to be the most exciting and heart-pounding birthday celebration idea.

Also, it gives you the opportunity to explore your city like never before with a limousine city lights tour. Also, please note that whether it is your hometown or a new city you have always wanted to explore, a night tour in a limousine offers a unique perspective. You will cruise through Chicago's iconic landmarks and enjoy the day to its fullest. This is a fantastic way to celebrate your birthday while feeling like a VIP.

Casino Night

If you are feeling lucky on your birthday, why not plan a limousine casino night?

Start with a luxurious limousine ride to a local casino in Chicago, and then spend the evening trying your hand at various games of chance.

Whether you prefer blackjack, poker, or roulette, a casino night in a limousine adds a touch of glamour to your birthday celebration. Plus, you would not have to worry about the driving because our professional and certified chauffeur

will take care of that for you.

Spa Day on Wheels

Birthdays are all about celebrating yourself, aren't they? Of course, they are. And that's why we got you the outstanding celebration idea for your or your beloved's next birthday - that is to plan a spay day on four wheels amid the beauty of Chicago.

You can plan it with your friends or loved ones and energy a "me day. " Pampering yourself and your friends with a spa day on wheels will be the best way to get ready for the new and energetic start of your next year.

Your limousine can be transformed into a mobile spa, complete with massage tables, aromatherapy, and a soothing atmosphere. In addition, you can travel to your favorite spa destinations or have a licensed masseuse come on board. And the best part is you will have plenty of opportunities, like enjoy facials, massages, and other spa treatments while sipping champagne and reveling in the comfort of your luxurious Chicago limousine ride.

Wine Tasting Tour

It is no secret that Chicago is surrounded by picturesque suburbs that are home to some exceptional wineries. Renting a limousine for a suburban wine tasting tour is an excellent way to celebrate your birthday. Gather your wine-loving friends, and let your chauffeur take you to the best wineries in the area. Also, you can savor a variety of fine wines, all while traveling in comfort and luxury.

Chicago River Cruise

Celebrating your or your beloved's next birthday in a happy limousine would definitely be an exciting idea especially when you get the opportunity to explore Chicago's beautiful landscape.

If you are planning an exciting and joyous birthday celebration with a

touch of elegance, consider a visiting Chicago River Cruise in a limousine. You and your guests can enjoy breathtaking views of the city's iconic architecture while sipping on champagne and indulging in delicious hors d'oeuvres.

Moreover, this scenic tour along the Chicago River offers a unique perspective of the city and is perfect for those who appreciate history and stunning skylines.

Chicago Foodie Tour

If you are a foodie, this idea will definitely be a divine idea to celebrate your birthday the way you love. It is because our next limousine birthday in Chicago is to plan a foodie tour. Also, we all know that Chicago is renowned for its culinary scene, and what better way to experience it than on a foodie tour in a limousine?

Also, you can customize your birthday celebration by creating an itinerary that includes visits to some of the city's top restaurants, food festivals, and hidden culinary gems. With a limousine at your disposal, you can sample a diverse range of dishes without worrying about transportation. Or you can enjoy your food while roaming around the colorful streets of Chicago.

Concert or Theater Night

It is an open secret that Chicago is a hub for live entertainment, from Broadway-style shows to top-tier concerts. So, it is time to cash this Chicago fact and make your birthday extra special by attending a performance in style. You can arrive at the theater or concert venue in a sleek limousine, and enjoy the show without the hassle of parking or traffic. This option guarantees a night of joy and countless laughter.

Chicago Sports Game

For sports enthusiasts, a birthday spent at a Chicago sports game is a dream come true. Whether you are a Cubs, White Sox, Bulls, or Bears fan, Chicago offers a variety of sporting events year-round. You can rent a Chicago limousine service to transport you and your friends to the game, tailgate in style, and cheer for your favorite team. It is the perfect way to combine your love for sports with a luxurious birthday celebration.

Museum and Gallery Hop
Last but not least, Chicago is home to world-class museums and art galleries, making it an ideal destination for art and culture aficionados. Therefore, it is one of exciting birthday ideas to plan a birthday limousine tour that takes you to renowned institutions like the Art Institute of Chicago, the Museum of Science and Industry, and the Museum of Contemporary Art. Explore the city's rich cultural heritage while traveling in comfort and luxury.
To conclude, Chicago offers an array of options for those seeking to celebrate their birthdays in a grand and memorable way. Whether you are planning an intimate gathering with close friends or a grand party, our well-maintained and happy limousines will add that extra touch of sophistication and excitement to your birthday celebration. Our experienced and professional chauffeurs will take care of you and your loved ones while you can relax, enjoy your birthday to the fullest.